World-over, museums offer the ideal environment for learning outside the classroom, by providing inspiration and stimulating young minds to think of the endless creative possibilities. In particular, the Indian Music Experience is, as the name, suggests, an experiential or interactive museum, where learning is self-guided, hands-on and a lot of fun.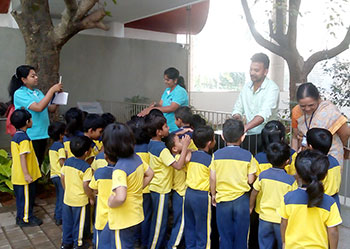 Exposure to the arts is highly beneficial for the development of young minds.
The carefully curated content at the IME not only exposes children to various kinds of music, but also explores history, geography, language, sociology, and politics through music.
The Sound Garden provides a hands on experience of principles of physics such asfrequency, vibration, amplitude, resonance, timbre, pitch etc.

Our trained staff and passionate volunteers provide guided tours that are catered to the particular age of the visiting group.

Since its opening, the sound garden wing has had over 5,000 school children visit, from prestigious international schools, to schools with children from disadvantaged or lower economic backgrounds.
School visits by prior appointment only. Please write to info@indianmusicexperience.org for more details.
Thanks to the staff for guding us.Overall it was to good. It was a wonderful experience. The kids & teachers had amazing fun experience. Every one was faccinated by the sound glaints slab and the thunder bell sound.
We are very impressed and happy to visit to Indian Music Experience. The visit of your museum will excite the children and they are also very happy to see the museum and enjoyed it.
It was amazing to experience such a Musical journey. Learn a lot about sound and noise farmed to music. Experts were students friendly and explained thoroughly.
Thank you for such a wonderful guidance to the Musical World.
Wonderful experience. First of its kind children and we really enjoyed it. Thanks to the whole team.
Fantastic experience & Very educational. Unbelivable experience,so happy to watch you on mix the city.
So proud that finally we have a Museum. Dedicated solo by to music and super to effort. Looking forward to share this information with more friends and family .
Very good place to vist , Innovative place heaven for music lovers. We all had a wonderfull experience here.
It was a wonderful journey through the Music World. I would like to come again with Family, Students, Friends etc….very nice.
It was a mesmeric experience. Great job & brilliant curation. Good well !!.
Beautiful, wonderful experience. Outdoor and indoor musical experience. Thanks to IME.