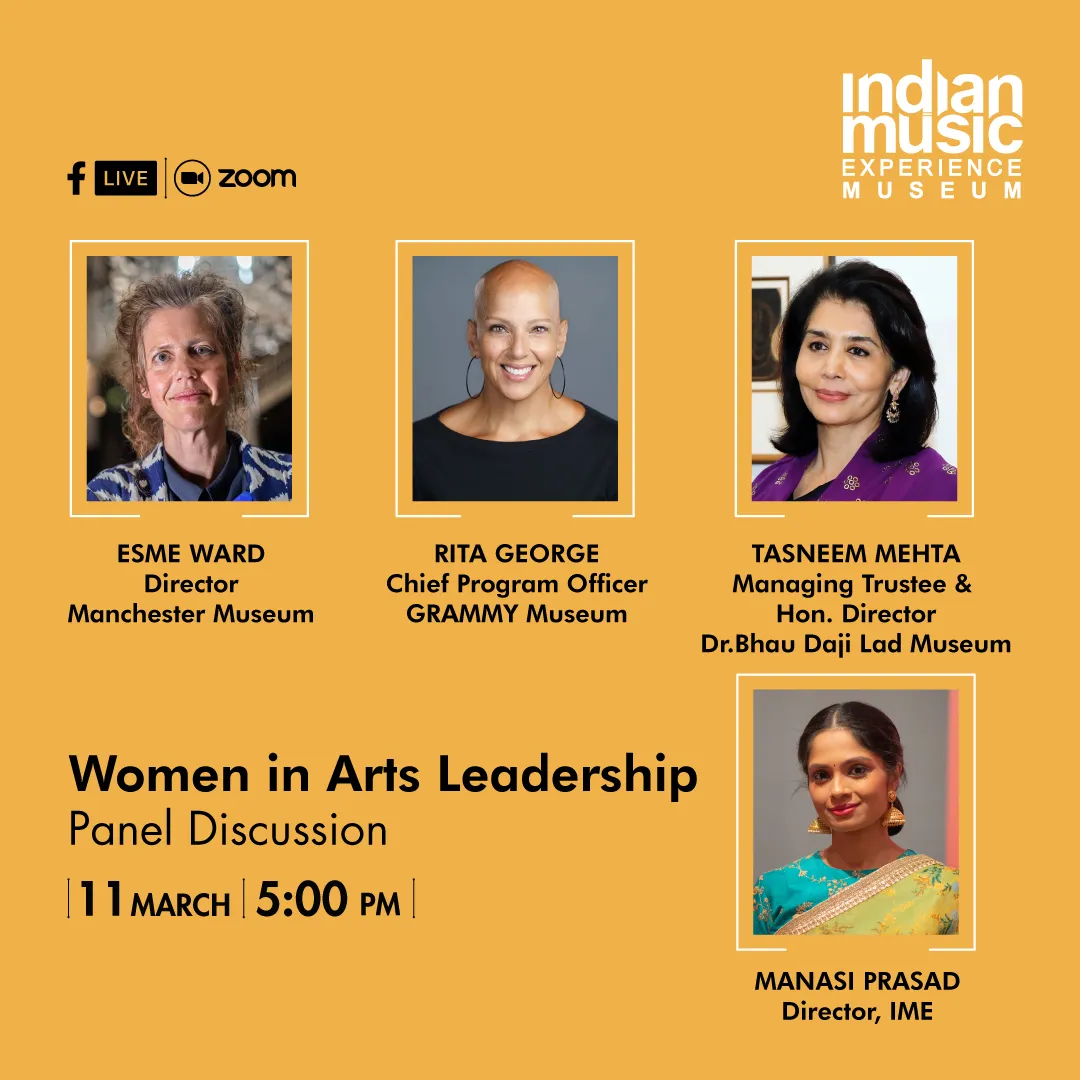 Women in Leadership in the Arts
A Panel Discussion
We can all agree that great strides have been made in the direction of a more gender equal arts and culture sector, however, leadership still remains a gender skewed domain. To commemorate Women's Day, the Indian Music Experience Museum will host a discussion shedding light on women's leadership in the arts.  On 11th March catch our director Manasi Prasad in conversation with Esme Ward, Tasneem Mehta and Rita George, pioneering forces in the art world, as they reflect on the status of women leadership in arts today, it's evolution and what needs to be done to achieve a more equal arts future.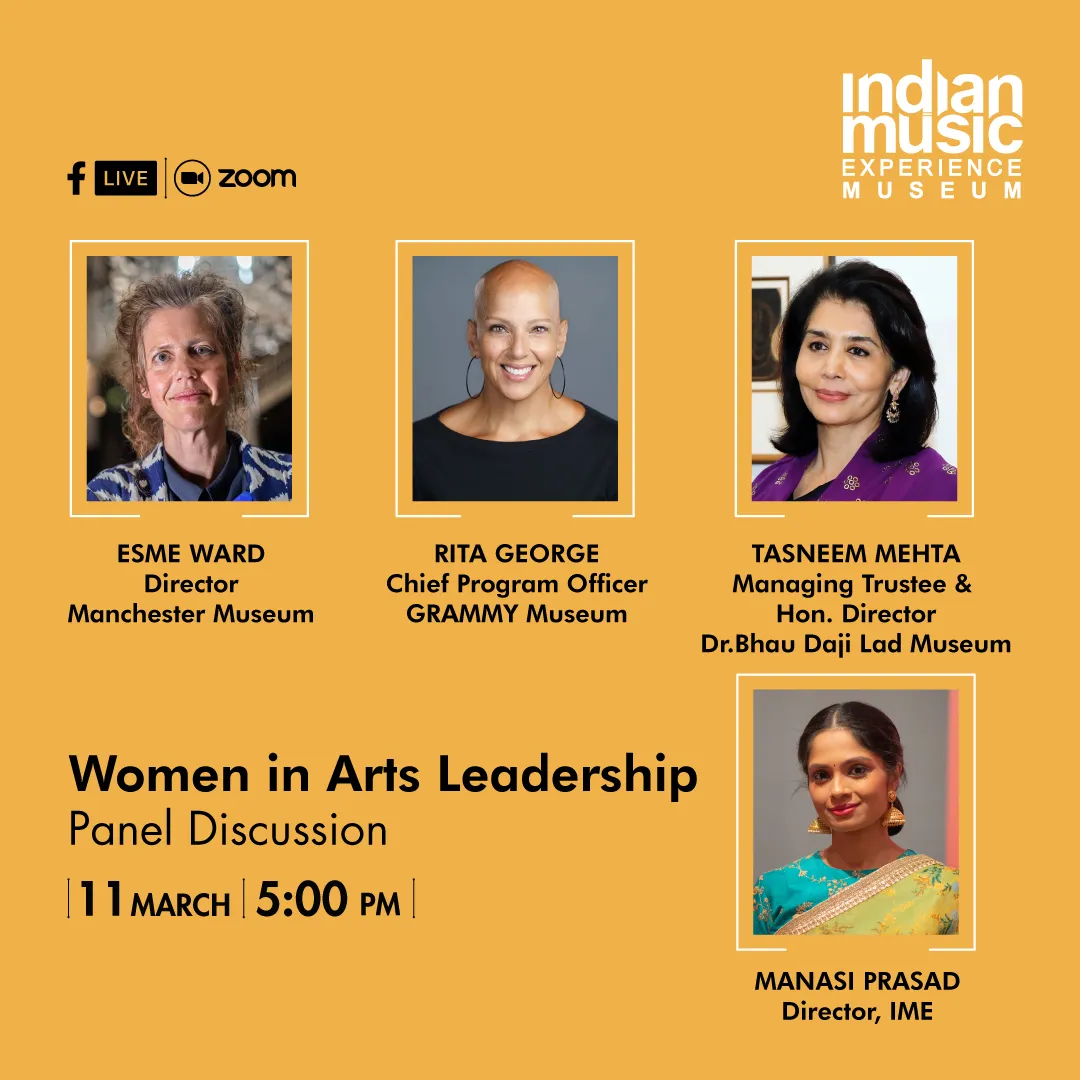 Panelists
– Esme Ward, (Director ManchesterMuseum)
– Tasneem Mehta (Managing Trustee and Honorary Director Dr. Bhau Daji Lad Museum, Vice chairman INTACH)
– Rita George, Chief Program Officer, GRAMMY Museum
– Moderated by Manasi Prasad, IME Director
Esme Ward
Esme Ward is the Director of Manchester Museum  at the University of Manchester where she is leading a £14 million transformative project, hello future with a commitment to become the world's most inclusive, imaginative and caring museum.  She is driven by a clear mission, to build understanding between cultures and a more sustainable world.  Previously, as Head of Learning and Engagement across Manchester Museum and the Whitworth, she led the growth of learning and public programmes, embedding award-winning health and culture, early years and age friendly work.  Esme is Co-Chair of the Culture, Health & Wellbeing Alliance and also Co-Chair of the University Museums Group. She sits on the National Museum's Directors' Executive Council representing university museums. She is a Clore Fellow and Honorary Professor of Heritage Futures at the University of Manchester
Dr. Tasneem Mehta
Dr. Tasneem Zakaria Mehta is an art historian, writer, curator, designer, and cultural activist. A leaders of India's heritage preservation movement, Mehta has successfully pioneered the revival and restoration of several of Mumbai's important cultural sites.
As managing trustee and honorary director of the Dr. Bhau Daji Lad Mumbai City Museum, Mehta conceptualized, curated, designed, and implemented the institution's restoration and revitalization. In 2005 the museum was awarded a UNESCO Asia-Pacific Heritage Award of Excellence and has become an important cultural hub and platform for showcasing contemporary and historic exhibitions.
Mehta is also vice chairman of the Indian National Trust for Art and Cultural Heritage and a Mumbai chapter convenor. She is a member of: the advisory board of the National Gallery of Modern Art; the Governing Council of the National Institute of Design; the museum Expert Committee in the Ministry of Culture; and the Academic Council of the National Museum Institute of the History of Art, Conservation, and Museology. She is also a trustee of the Kochi Biennale Foundation.
Mehta is past chair of the Task Force for Culture and Museums for the Confederation of Indian Industries. She was a two-term member of the Salar Jung Museum board. She is a member of the International Council of the Museum of Modern Art in New York City and has been a nominator for the Rockefeller Foundation's Bellagio Creative Arts awards.
Rita George
Rita George is Chief Program Officer for the GRAMMY Museum. In her role, George will provide leadership, strategy and managerial oversight to the curatorial, community engagement, education, and digital media teams, connecting internal and external partners to create a more cohesive approach to scale the Museum's diverse programming. George will continue to lead new business development efforts, expand DEIA initiatives, and help oversee the Museum's offsite locations. As part of the leadership team, George provides support to the Museum's President and Board of Directors, policy development and HR initiatives.
Previously as Chief Operating Officer, George oversaw day-to-day business and operations for the Museum, led new business development efforts and museum renovations, and managed the strategic planning and curatorial content development for more than 100 exhibits and off-site projects, including the Woody Guthrie Center in Tulsa, Okla.; the opening of GRAMMY Museum Mississippi in Cleveland, Miss.; the GRAMMY Museum Gallery at Musicians Hall of Fame and Museum in Nashville, Tenn.; the Ray Charles Memorial Library in Los Angeles, and the GRAMMY Museum Experience Prudential Center in Newark, N.J., in 2017.
Prior to joining the GRAMMY Museum, George served as director of visitor services, security and operations for the Rock and Roll Hall of Fame in Cleveland.
George graduated from Ohio State University with a bachelor's degree in journalism.