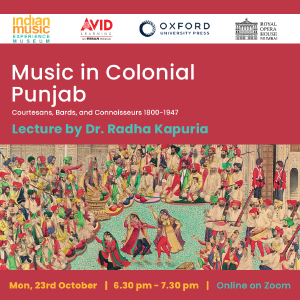 Radha Kapuria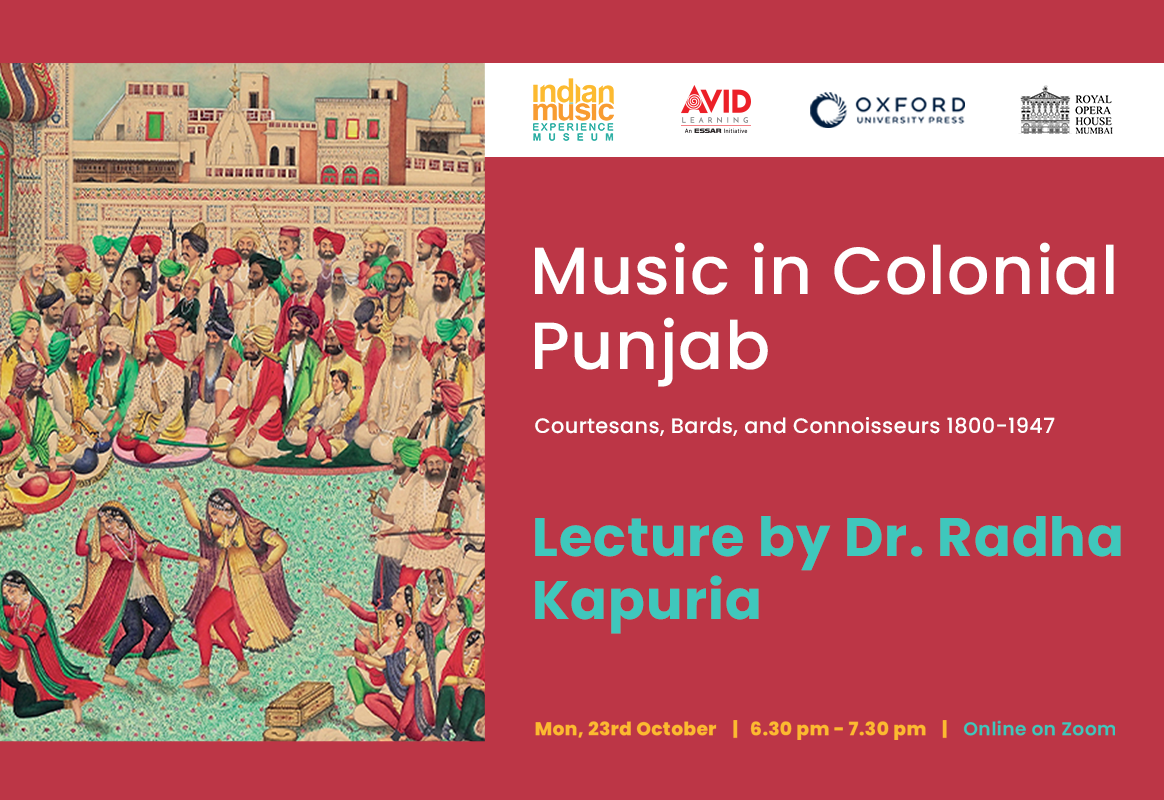 About
The Indian Music Experience Museum in partnership with Avid Learning is pleased to present a lecture by Dr. Radha Kapuria on her book "Music in Colonial Punjab: Courtesans, Bards and Connoisseurs, 1800 – 1947"
The book offers the first social history of music in undivided Punjab (1800–1947), beginning at the Lahore court of Maharaja Ranjit Singh and concluding at the Patiala royal darbār. It unearths new evidence for the centrality of female performers and classical music in a region primarily viewed as a folk music center, featuring a range of musicians and dancers —from mirāsīs (bards) and kalāwants (elite musicians), to kanjrīs (subaltern female performers) and tawā'if (courtesans). A central theme is the rise of new musical audiences shaped by the Anglicised Punjabi middle classes, and British colonialists' response to Punjab's performing communities. The book reveals a diverse connoisseurship for music with insights from history,ethnomusicology, and geography on an activity that still unites a region now divided between India and Pakistan.
Primarily a historian of gender and culture in South Asia, Radha Kapuria is Assistant Professor in South Asian History at Durham University. During her BA and MA at Delhi University, and her MPhil at Jawaharlal Nehru University (JNU) in Delhi, she learned to seek out quotidian and micro histories, beyond conventional political history narratives. At JNU, Dr. Kapuria explored the longue durée shifts in north India's oldest classical music festival in the Punjabi city of Jalandhar: a micro-history of music in one city. She then adopted a more macrohistorical perspective by examining music's social history for the entire
Punjab region for her PhD at King's College London, which was shortlisted for the Royal Asiatic Society's Bayly Prize. Music in Colonial Punjab: Courtesans, Bards, and Connoisseurs (1800-1947), is her first book and is based on this doctoral research featuring a diverse cast of figures, from musicians, bards and courtesans, to kings, colonisers, missionaries, scholars and social reformists.
Date:
23rd Oct 2023, 6.30 pm onwards
Venue:
Online on Zoom
Zoom Registration Link:
Zoom Registration Link