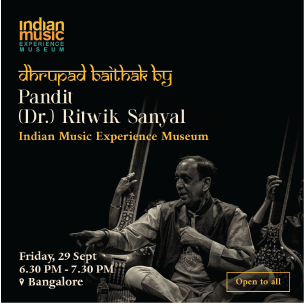 Dhrupad Baithak by Pandit (Dr.) Ritwik Sanyal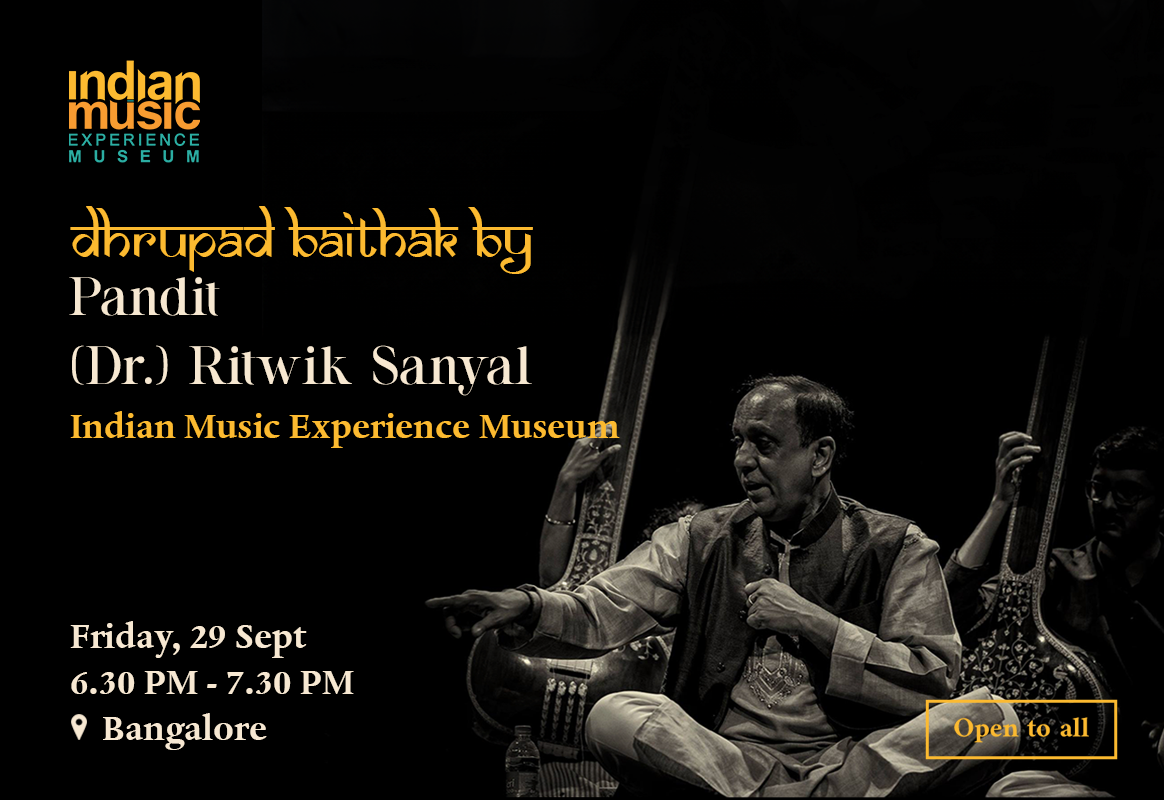 Indian Music Experience Museum is honored to present a special baithak in celebration of the rich Indian classical tradition of Dhrupad with Padma Shri Pandit (Dr.) Ritwik Sanyal.
Dhrupad is one of the oldest vocal forms of classical music from the Indian Subcontinent. The name probably comes from dhruvapada (dhruva meaning 'fixed' or constant) mentioned in the Natyashastra to denote structured songs. The earliest documented mention of Dhrupad as a genre appears in the 16th century text Ain-i-Akbari by Abu Fazl. In its present day form, a Dhrupad recital has either a solo singer or a small group of singers singing in unison to the beat of a pakhawaj and unfolds in two parts. It starts with alap which forms the major part of the performance, involving a contemplative and in-depth exploration of the chosen raga's melodic structure. The second part, called dhrupad, comprises one or more verses of a devotional nature in either Sanskrit or Braj Bhasha set to a selected raga. Dhrupad can also be heard in temples where, different from a classical concert setting, there is little or no alap, bells and finger cymbals are used for percussion, and mridang instead of pakhawaj keeps the beat.
About the Artists
Pandit Ritwik Sanyal is a renowned Dhrupad maestro who has devoted his life in service of this art form. With over 45 years as a singer, composer, scholar, teacher, philosopher and writer, Pandit Ritwik Sanyal has left an indelible mark on India's classical music culture and the revival of Dhrupad. In recognition of his immense contributions, he was awarded the Kendriya Sangeet Natak Akademi Puruskar in 2013. Pandit Ritwik Sanyal's musical journey began at the age of 10 when he met his Guru, Ustad Zia Mohiuddin Dagar. Over the years, he studied under the Guru-Śiṣya Paramparā and honed his vocal techniques, becoming the first Dhrupad artist outside of the Dagar family to perform internationally. His style is a blend of the teachings of his Gurus, Ustad Zia Mohiuddin Dagar and Ustad Zia Fariduddin Dagar, characterized by rich and subtle variations in musical layers, evoking the profound Śānta Rasa. As an academic, Dr. Sanyal has served as the Head of the Department of Vocal Music and later as Dean of the Faculty of Performing Arts at Banaras Hindu University. He has several albums released both in India and abroad. Since 1975, Pandit Sanyal has performed at over 600 concerts on leading platforms nationally and around 250 concerts internationally.
Pandit Sanyal will be accompanied on the Pakhawaj by Shri Anoor Prabodh Shyam and on vocals by Shri Ribhu Sanyal.
An IT engineer by profession, Shri Ribhu Sanyal is a new generation Dhrupad singer who has received training in Alap Dhrupad and Dhamar from his father Pandit Ritwik Sanyal.
Shri Anoor Prabodh Shyam is a young Bangalore based percussionist who has received training in Pakhawaj in the Dhrupad style from Shri Sukhad Munde and has accompanied many noteworthy artists on stage.
Join us for an unforgettable evening as Pandit Ritwik Sanyal shares his comprehensive knowledge and practice of Dhrupad. We look forward to welcoming you.
Date and Venue:
29th Sep 2023, 06:30 pm – 07:30 pm
Indian Music Experience Museum,
Brigade Millennium,
JP Nagar 7th phase,
Bengaluru,
Karnataka 560078