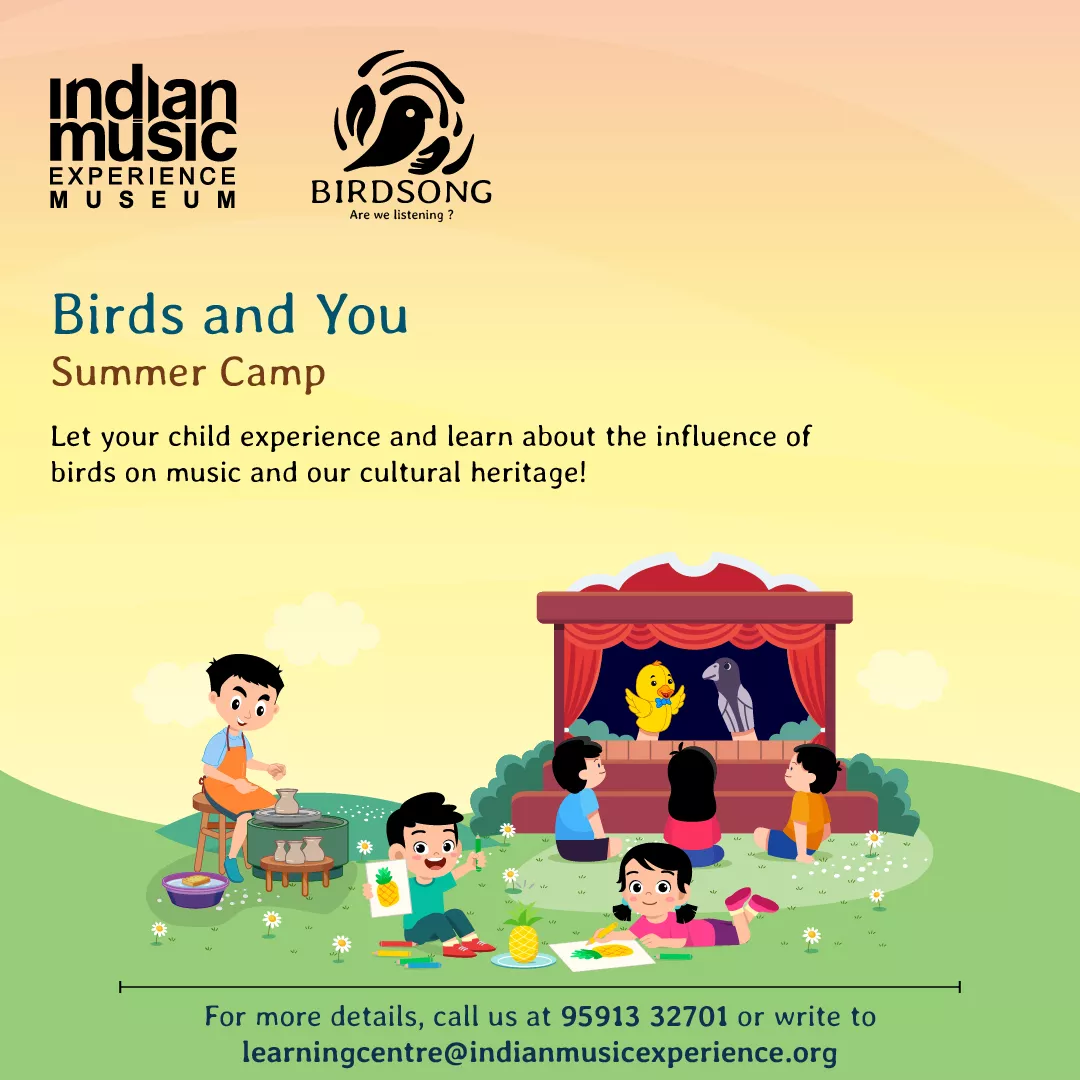 Birds & You – Art and Music Summer Camp
(Storytelling, art & craft, music, dance, yoga & sketching)
Indian Music Experience Museum brings to you its annual summer camp from May 9th to May 13th 2022. This year, we bring to you a unique experience with art workshops themed around birds.  "Birds & You " summer camp offers an opportunity for children to explore the world of art themed activity sessions that bring together ecology and music, such as Musical storytelling, Bird clay-modelling, bird-inspired movement and dance workshop, Bird Yoga and bird games, Bird origami and sketching workshop.
Let your children experience, enjoy and equip themselves with knowledge about numerous birds around them and also understand and appreciate in their own little ways, the influence of birds on Indian music and culture through fun-filled activity-based sessions.  What is more interesting is each of these sessions will be held inside various galleries of the museum and Birdsong exhibition space. Each day of the summer camp has a different theme to make the experience an enjoyable, fun-filled one for the little ones.
The camp offers the following sessions:
Day 1: Musical storytelling on mythological birds
Ancient Indian mythology and folklore is rich with tales of birds, both real and imaginary. Mythical birds are symbols, often embodying various aspects of divinity. Real birds too can be found in our oldest stories and folktales, representing human attributes such as kindness, vanity, greed and honesty and even sacred qualities of associated gods and goddesses. In the mythical and real -world, our feathered companions have a lasting influence on our collective imagination.
A storyteller from Amar Chitra Katha, our knowledge partner for the Birdsong exhibition as well, will conduct an interactive session on Mythological birds in our culture.
Day 2: Bird inspired clay-modelling
Swati Jain graduated from School of Planning and Architecture (SPA), New Delhi in 2004. She got exposed to clay work in her college and started learning pottery along with her architecture work. After working for 12 years for top architecture firms, she set up a pottery and ceramics studio in Bangalore where she is actively pursuing ceramics under the brand name of MudwithLove. In her practice, she combines ceramics and architecture to create artifacts and wall installations for modern living.
Inspired by nature, she celebrates the tactile world of textures, wobbles and imperfections. She likes her work to be touched, held and felt and brings the viewer's attention to the imperfect beauty that surrounds us. Abstract and minimal, her work aspires to be instrumental in crafting relevant designs for contemporary spaces. She also conducts classes and workshops at her ceramic studio in JP Nagar.
Day 3: Birds of movement – dance workshop
The workshop will be an exploration of movement inspired by sounds and songs of birds. The children will learn to express creativity through their bodies and the workshop will inspire them to appreciate the movement and musicality that exists in nature. This session is facilitated by Veena Basavrajaiah (Movement artist) in collaboration with Nayana Udayashankar( Singer)
Day 4: Bird Yoga and bird games
Bird Yoga:
Shwetha,  an engineer by profession and a yoga educator by passion, has been practicing yoga from a very young age and has been teaching from the past 4 years globally. She  specializes in various forms of yoga , Pranayama and meditation and kids yoga. The kids yoga session has been designed to develop a lifelong love for yoga and movement. It incorporates Asana practice, breathing techniques and creative movement and poses based on birds with storytelling to create a fun and a memorable learning experience.
Bird Games:
Reshma P.V, a teacher by profession, is into birding from past 10 years and is very passionate about weekend birding sessions.A philatelist and numismatist, Reshma also occasionally conducts bird walks , distributes hand guides of Early Bird during the walks and promotes local birding.
She will be conducting group activities like quiz, bird sound identification , crossword puzzle and many other games.
Day 5: Bird origami and sketching workshop.
Bird Origami:
Srirangaraj's association with Origami goes back to his childhood and since then, has been  enjoying both its complexity and simplicity! Origami, being a metamorphic art, enables him to enjoy the dynamic lines, organic forms, mathematical beauty and of course sheer fun! Having designed his own origami work, and having taught the craft in person  as well as conducted many online workshops for children, architecture students, fashion design students, visually impaired, cognitive impaired, senior citizens and corporates etc,. Through Origami, Srirangaraj has witnessed great improvement in Behavioral Skills, Focused Attention, Cooperative Learning, Cognitive Development, Thinking Skills, Understanding of Fractions n Geometry and Problem Solving etc,. The best part: the only material needed is paper, which is available everywhere!
Bird Sketching:
Prasad Natarajan is a Bangalore based wildlife artist and founder of Artist for Wildlife and Nature (AWN). He has been working on nature art/illustrations since 2005.
He is one of India's acclaimed wildlife artists, art mentor and featured in many leading wildlife magazines. Traveling around the world to study his subjects' behavior in their natural habitat, Prasad has gathered as much information as possible through images and field sketches that enables him to depict his subjects as accurately as possible. These sketches and images later transform into finished works at his studio. He works on all media. His style of work is impressionist realism.