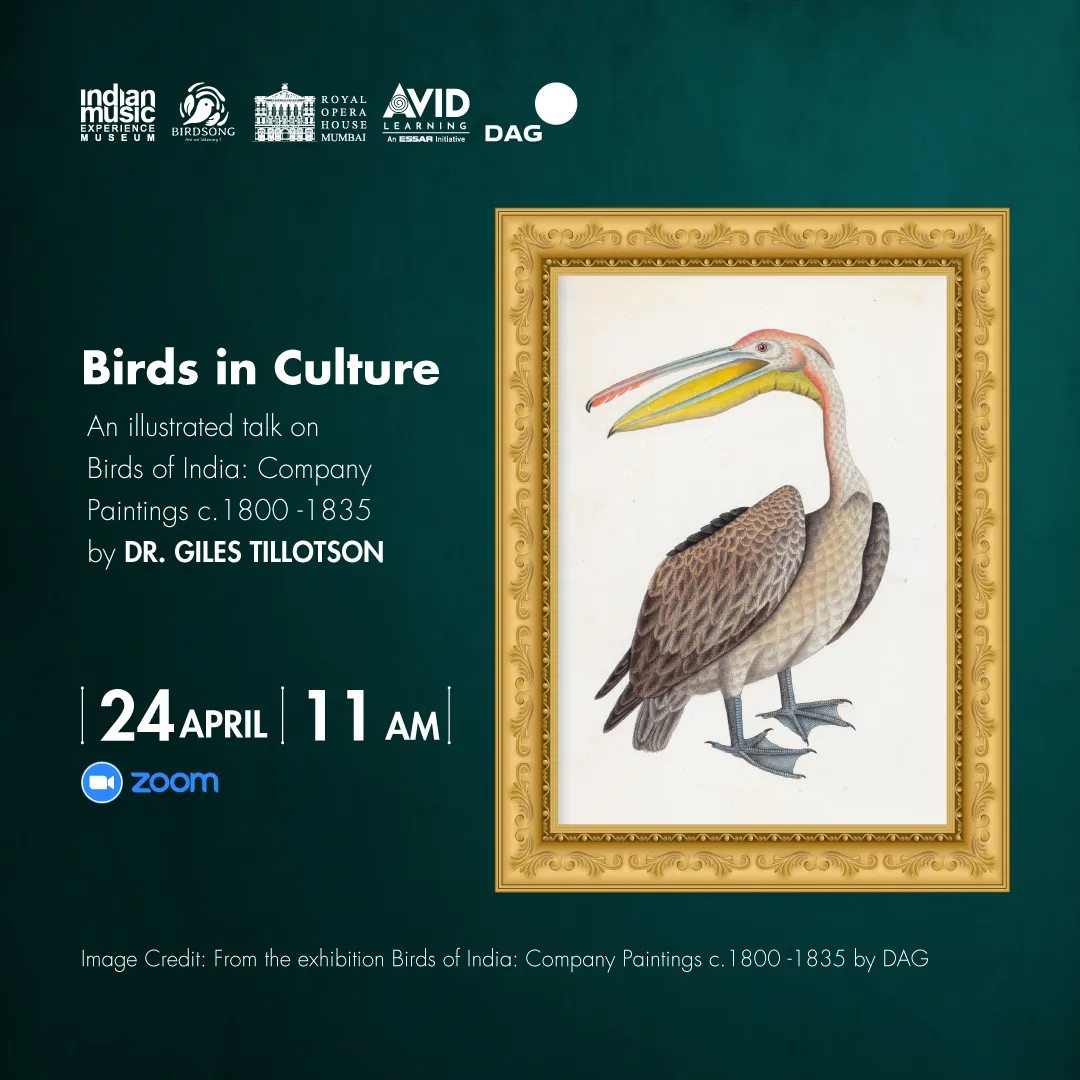 Birds in Culture
A lecture demonstration on Birds of India: Company Paintings c. 1800-1835 by Dr. Giles Tillotson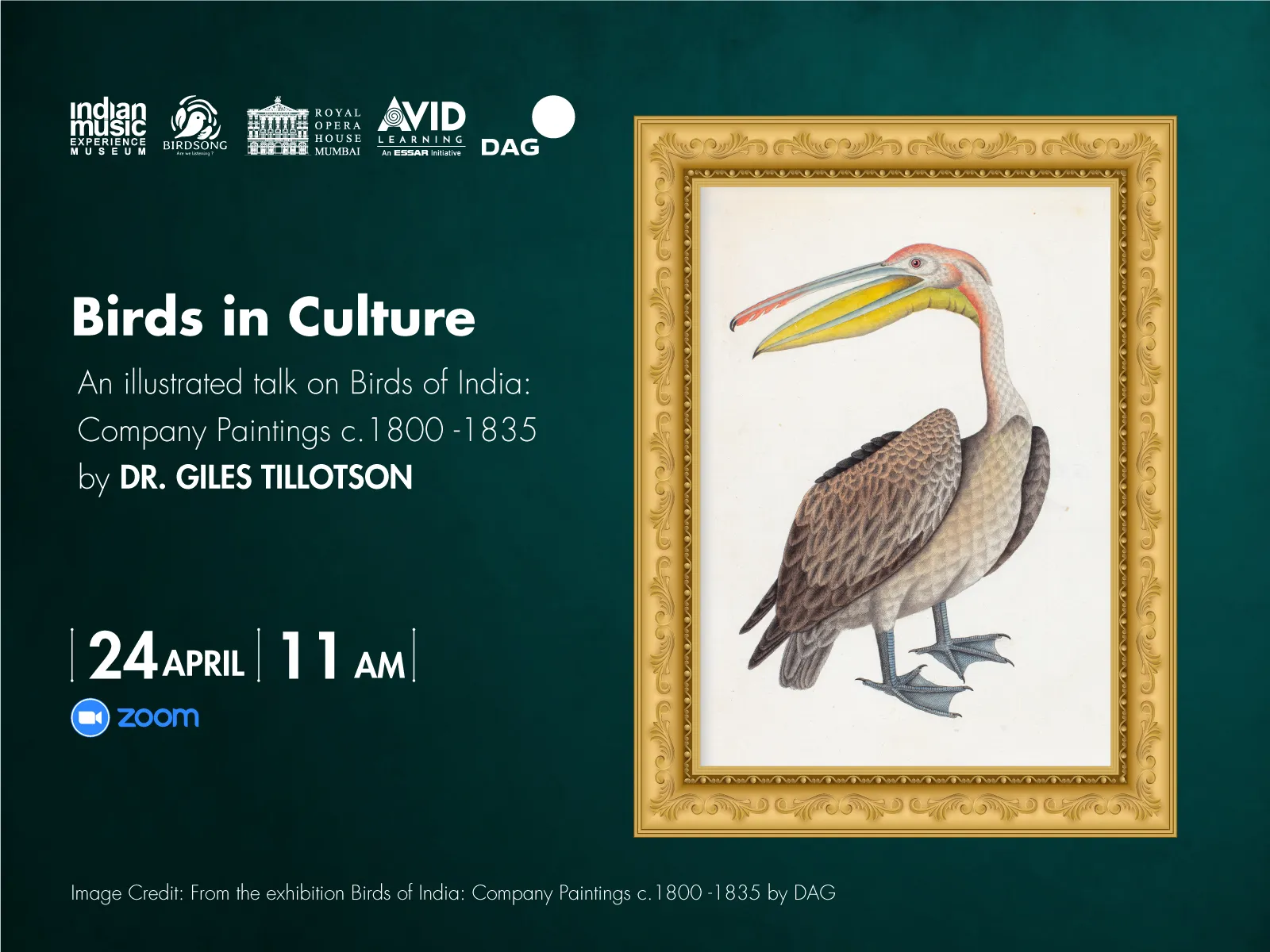 Birds not only inhabit the natural environment but also populate our artistic and cultural landscape. Avians have been revered for ages and their influence runs through the fabric of our culture as reflected in a variety of arts, folklore, and traditional music from time immemorial. As part of the Birdsong exhibition, which explores the science behind bird vocalizations, as well as the influence of birds on music and culture, the Indian Music Experience Museum in partnership with Avid Learning and the Royal Opera House present 'Birds in Culture' – a webinar series that delves deep into the representation of birds in different art forms.
For the first episode brought to you in partnership with DAG, Dr. Giles, art historian, writer, and curator will present an illustrated talk on paintings of Indian birds commissioned by the East India Company between the late 18th and early 19th century. These 125 paintings stand out not only for the incredible detailing but also for illustrating the evolution of Company paintings from patronage to popular art, through a single theme.
Bio
Giles Tillotson has written extensively on Indian art, architecture, and history, especially on the Rajput courts of Rajasthan, and urbanism and landscape painting in colonial and modern India. In recent years he has worked on exhibitions and publications with the Maharaja Sawai Man Singh II Museum in Jaipur City Palace, and with DAG, New Delhi. He is the curator of the exhibition 'Birds of India: Company Paintings c. 1800-1835', which has been shown at DAG in New Delhi and at BDL Museum in Mumbai.
Avid Learning
Avid Learning is a public programming platform and cultural arm of the Essar Group. It has conducted over 1400 programs and connected with more than 175,000 individuals since its inception in 2009. Driven by the belief that #LearningNeverStops, AVID's multiple formats like Workshops, Panel Discussions, Gallery Walkthroughs, and Festival Platforms create a dynamic and interactive atmosphere that stimulates intellectual and creative growth across the fields of Culture, Heritage, Literature, Art, Innovation and Sustainability.
Facebook: www.facebook.com/Avidlearning
Twitter: www.twitter.com/Avidlearning
Instagram: @avidlearning
Royal Opera House, Mumbai
The Royal Opera House, Mumbai is widely touted as Mumbai's Cultural Crown Jewel and India's only surviving Opera House. The space has been owned by the Royal Family of Gondal since 1952.The Royal Opera House Mumbai, now one of the last remaining Baroque structures in the city, reopened after 23 years in October 2016. The building was included on the 2012 World Monuments Watch to raise awareness about its history and significance, and support preservation efforts. The building has since been recognized with an Award of Merit in the 2017 UNESCO Asia-Pacific Awards for Cultural Heritage Conservation. Today, it stands as a key performance and creative hub in the city's cultural landscape, while being a premier heritage landmark.
Website: https://www.royaloperahouse.in/