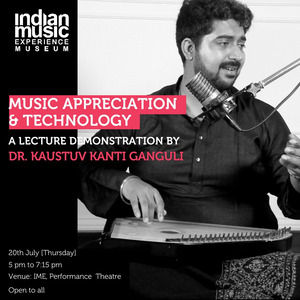 A Lecture demonstration by Dr. Kaustuv Kanti Ganguli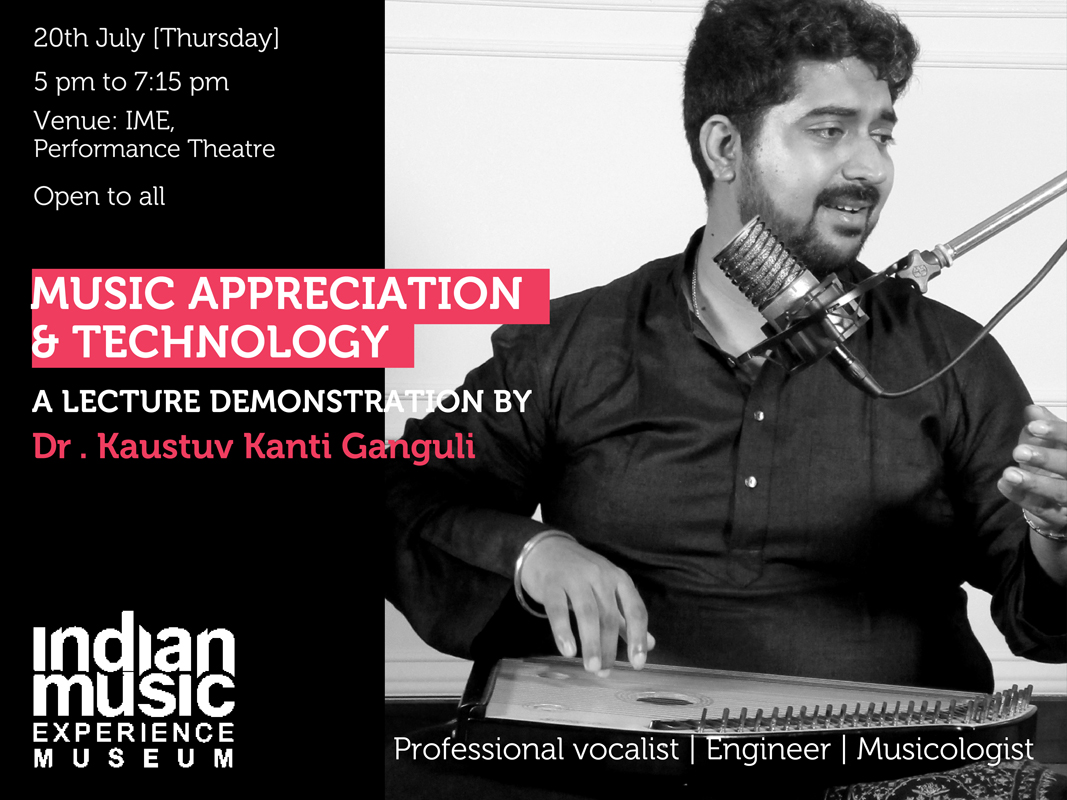 Music Appreciation & Technology
A Lecture demonstration by Dr. Kaustuv Kanti Ganguli
As we explore new areas of research in music theory and musicology, we invite you for a lecture demonstration by Dr Kaustuv Kanti Ganguli looking at new psychoacoustic and scientific approaches to music appreciation in the context of Hindustani Music.
Dr Ganguli will illustrate how our auditory system perceives and processes the rich tonal intricacies of ragas and share insights on how pitch, timbre, and rhythm interact to evoke deep emotional responses. Further, delving into the intersection of music and technology, the lecture will demonstrate how computational models can aid in understanding the structural patterns, melodic variations, and improvisational techniques employed in Hindustani classical music, fostering a deeper appreciation for its artistic depth. This lecture offers a unique perspective on Hindustani ragas, weaving together the artistry of classical music with scientific insights from psychoacoustics and computational musicology. It invites both enthusiasts and newcomers to embark on a journey of music exploration, unraveling the mysteries that lie within the soul-stirring melodies of Hindustani ragas.
The concert will begin with Raga Abhogi, a raga originally from the Carnatic repertoire and later adopted to Hindustani style. Following the Khayal performance, the concert will transition into the expressive world of Raag Bhairavi. Bhairavi evokes a spectrum of emotions, from longing and romance to the celebration of love.
On the Harmonium, Dr. Ravindra Katoti adds his spectrum of colorful notes while Shri Yogeesh Bhat on the Tabla beholds the rhythm.
About Dr. Kaustuv Kanti Ganguli
Dr. Kaustuv Kanti Ganguli is a professional vocalist, an engineer, and a musicologist trained in Hindustani music tradition. After a PhD at the Indian Institute of Technology Bombay and Postdoc at the New York University Abu Dhabi, Dr. Ganguli is currently a Professor of Computing at the Zayed University, UAE. His research interest includes artificial intelligence in music, with a focus on computational musicology. Dr. Ganguli aims to explore this pedagogy and promote experimental work in music production, analysis, and performance, combining his knowledge in the fields of music and technology.
Hailing from the Patiala gharana, he is proficient in Khayal, Thumri-Dadra, Bhajan, and other allied musical forms. Initiated into music at an age of 4, he has continued his musical training with vocal maestro Pt. Ajoy Chakrabarty as a scholar at ITC Sangeet Research Academy, Kolkata. Dr. Ganguli has been performing in various cities of India as well as abroad since the age of 12 in prestigious concerts. His accolades include 'Scholarship to Young Artiste' from the Ministry of Culture (2010), President's Award for winning the All India Radio National Competition (2011), Scholarship from the National Center for the Performing Arts (2012)
Date and Venue:
20th July 2023, 05:00 pm – 07:15 pm
IME Performance Theatre,
Indian Music Experience Museum,
Brigade Millennium,
JP Nagar 7th phase,
Bengaluru,
Karnataka 560078